who we are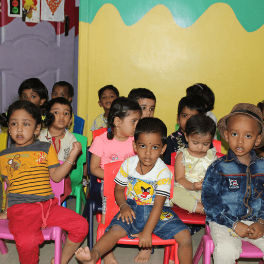 Why Choose US
Best Playschool with Montessori 2017

House full of Joy

We teach kids to dream high

Convenient hours of classes

Hygenic Foods

7:1 kids and teacher ratio

Visit our school and get love
What parents talk about us
Adithya
Hi! My son Aadi was very shy, Budding Sapling helped him a lot in coming out of the shell and now he faces the world with loads of confidence. Thanks Budding Sapling Team. He will be joining Jr.KG next year.
Murali Kishore
Proud father of Adithya
Nivedya(Meenu) And Gowri
Hi Mam,
Just want to leave this note your way to say 'Thank you!'.
Literally never seen a day care/play school that is filled with fun and positive energy. Every day was like a fresh day and I could see the joy and excitement in Gowri and Meenu at your place. And thank you for those healthy and variety food served that even Gowri liked and appreciated! (She so choosy about food and it's close to impossible to make her happy. :)). Thank you for keeping the kids mentally and physically well. No words to appreciate the care you were showing on their development.
We will miss your contagious positivity and fun! Wish to come back. All the best wishes to Budding Sapling.
Thank you so much!
Yamuna and Prajith
Sidharth Nagpal
My son is 18 months now started going to Budding Sapling when he was 15 months in their daycare.
He loves the atmosphere, food, staff and moreover its a homely atmosphere, so he is not missing home. We are planning to continue in BS till Toddler care.
Rajesh Nagpal and Shilpa Nagpal
Happy parents of Sidharth
Shreya Pundith
My daughter Shreya was very aggressive and was hardly sitting in one place. Budding Sapling kept her busy with so many vibrant activities that made her so disciplined that now she understands me so well.
Thanks Budding Sapling Team. She is enjoying every day in her class.
Vinodini
Budding Sapling is thankful to all the parents who make our journey so fruitful. Our success is by seeing developing children within our premises and after they leave us with a memorable journey ahead.